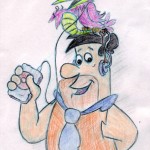 It's late in the week and since last week's exercise was a bit difficult (so I've been told) I thought I make this week's easier. Driving into work today I noticed that there were ten Songs on my iPhone that began with the word All.
All Because of You (U2)
All I Want (Toad the Wet Sprocket)
All I Want is You (U2)
All My Loving (Beatles)
All Revved Up No Place to Go (Meatloaf)
All Shook Up (Elvis)
All Star (Smash Mouth)
All The Same (Sick Puppies)
All These Things That I've Done (The Killers)
All You Need is Love (The Beatles)
This week I want you to find TEN songs in your Music Library that have a common word in the title and here are the rules.
You are not allowed to use "the, I, a, you, me, and, or"
Anything else goes. The more uncommon the word the more points you get.
Have Fun!
Bonus: Find Ten songs that have a common theme about the title.