In honor of the A-team movie released today.
Every episode of the A-team TV show had the same scenario. The A-team get's locked in some building that had a bunch of scrap metal and a welding torch. Then they always escape by blasting their way out the front door. I found this book and thought, what if YOU were your own A-team and found yourself trapped at your desk and had to fight your way out.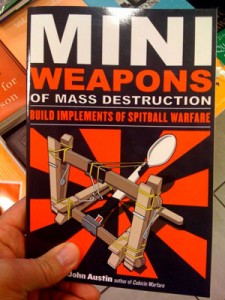 Look around your desk and in your mind using only what you have around you, create your escape weapon or weapons. What would it be, and how would it work? I don't expect actual working prototypes or even practical ones, this is for fun. So Have Fun!
Bonus: Draw a picture of your weapon.