When I was little I used to stare at the ceiling in my room when I couldn't sleep. When looking at it I would try to make out different shapes or faces in the shadows and texture or ceiling. To this day I still do that when I find the time to sit and look closely at the textures around me.
Here are few samples of images I have pulled out of the wood floor at my son's Kung Fu school. Click on the images to see what I saw.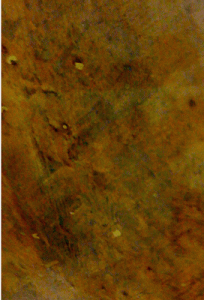 Exercise # 1:
Take a digital photo of some random texture or pattern.
Print it out in color or black and white.
Look at it from all angles until you start to make out an image.
Use a marker, pencil or pen to fill in the areas that are missing.
Bonus: Do the exercise again but use a picture of the ceiling above your bed.