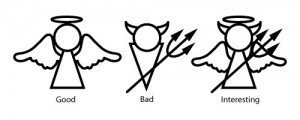 Here is a pretty common creative technique called Good Bad Interesting. You can use it during your next brainstorming activity. You take one subject and you try to find something about it that is Good Bad and Interesting. Pretty simple right.
Well that is pretty easy when the subject is something new you are exploring or you are in a group with a variety of different viewpoints. This will be different.
Looking at my desk I am picking the most boring, uninteresting things I see and giving you a list of three items you have to try to write something Good Bad Interesting about. Sorry they can't ask why these things are on my desk.
Your list:
A Bottle Cap
A Sharpie Marker
An Empty CD Envelope
Have Fun!
Bonus: Add an item from your own desk and do the same.